CG-ARTSへの各種資料請求は、こちらをご覧ください。
Fostering a New Culture.
This includes the planning, operation and consultant of festivals, and producing and coordinating exhibitions and events, creative support, CG Contest for Students, and research studies. In cultural promotion activities, we believe that it is important to appraise new talent and link them to society, in order to foster a new culture, and are therefore engaged in various activities mainly in the field of media art.
CG Contest for Students −Campus Genius Award−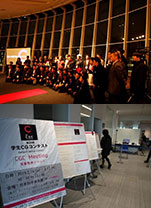 The "CG Contest for Students" is now established as a gateway to success in the digital field, with winners from the contest having seen much success in their careers. Since its establishment in 1995, the contest has expanded its target areas along with the evolution of the creative environment. The contest was transformed into a new format in 2011, taking the word CG with a wider understanding to include "Campus Genius", in response to the significant change of the relationship between the viewer and creator, as well as the mechanism of the evaluation of the works. The contest will continue to introduce new talent into society.
Creative Consultant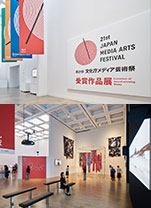 By planning and managing various festivals such as the Japan Media Arts Festival, which will celebrate its 24th anniversary in 2020 and is growing into a major international festival, and by acting as a consultant for contests to honor new expressions centered on the field of media arts, we will implement new expressions in society.
Creative Support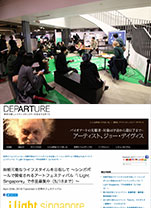 We are also engaged in support activities to foster a new culture. The "Project to support the nurturing of media arts creators" was commissioned by the Agency for Cultural Affairs, and offers production support for new works by young winners at the Japan Media Arts Festival. We also operate the website "DEPARTURE", which introduces new creativities to the world, and acts as a coordinator matching artists and creators from new fields with festivals, museums, and corporations.
Producing Exhibitions and Events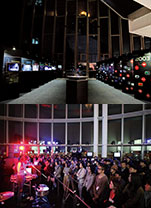 For new talent to be widely recognized by society and expand their field of activity, it is necessary to hold exhibitions, screenings, symposiums, and events in a variety of forms. However, in displaying works for new genres for example, there is no set formula, and this has sometimes become a hurdle for the propagation of such genres. The CG-ARTS produces exhibitions and events of various genres utilizing its expertise and networks it has accumulated over the years.

・Japan Media Arts Festival (1997 - 10, 12 - 17)
・"Robot-ism 1950 - 2000, From Astro-boy to AIBO" (2000)
・Japan Media Arts Festival Overseas Exhibition (2002, 2007 - 2010)
・Japan ASEAN Exchange Year "International Animation and Comic Forum" (2003)
・Japan Media Arts Festival 10th anniversary exhibition,"The Power of Expression, Japan" (2007)
・Japan Media Arts Festival Domestic Traveling Exhibitions (2011)
・MEDIA GEIJUTSU (2012); MAT (2013 - )
・DOGO ONSENART (2013 - 14)
・Manga*Anime*Games from Japan (2015)
・Japan Media Arts Festival 20th anniversary exhibition, "Power to Change"(2016)
・Japan Media Arts Festival in Xiamen, China "CHARACTOR" (2018)